Connecting with Nature on Gili Trawangan
Gili Trawangan's natural beauty and abundant marine life make it a beautiful place to connect to nature. Both on land and below the waves there is plenty to see. Here are just a few ways you can connect with nature on Gili Trawangan.
Snorkeling and Diving
Gili Trawangan is renowned for its stunning coral reefs and diverse marine ecosystem. Grab your snorkeling gear or join a diving excursion to explore the vibrant underwater world. Encounter colorful coral formations, tropical fish, sea turtles, and even the occasional reef shark. Several dive centers on the island offer courses and dive trips for beginners and advanced divers alike.
Sunset Beach Strolls
Gili Trawangan boasts picturesque white sand beaches, and one of the best ways to connect with nature is by taking leisurely walks along the shoreline during sunset. Enjoy the gentle ocean breeze, the sound of crashing waves, and the colourful hues of the sky as the sun sets over the horizon. If you'd like to find the very best sunset spots on Gili T, read our blog: Top Sunset Spots on Gili Trawangan
Cycling Around the Island
With no motorized vehicles on the island, cycling is the most popular means of transportation. Rent a bicycle and take a leisurely ride around Gili Trawangan's small paths, passing through coconut groves, lush vegetation, and quaint villages. Immerse yourself in the island's natural surroundings while enjoying the fresh air and scenic landscapes.
Yoga and Meditation
Gili Trawangan offers a serene atmosphere that is perfect for practicing yoga and meditation. There are a number of yoga centers on the island that provide classes and workshops, or you can do your own practice right in front of your room or on the beach in front of Villa Almarik. This is a great time to allow yourself to harmonize your mind, body, and spirit amidst the tranquil surroundings.
Island Hopping
Explore the natural wonders beyond Gili Trawangan by embarking on an island-hopping adventure. Gili T is the largest of the 3 Gili Islands and is very close to Gili Meno and Gili Air. These islands also have their own charms including a saltwater lake on Gili Meno, and underwater sculptures to snorkel through. Both also have stunning beaches and opportunities for snorkeling and diving.
Visit the Turtles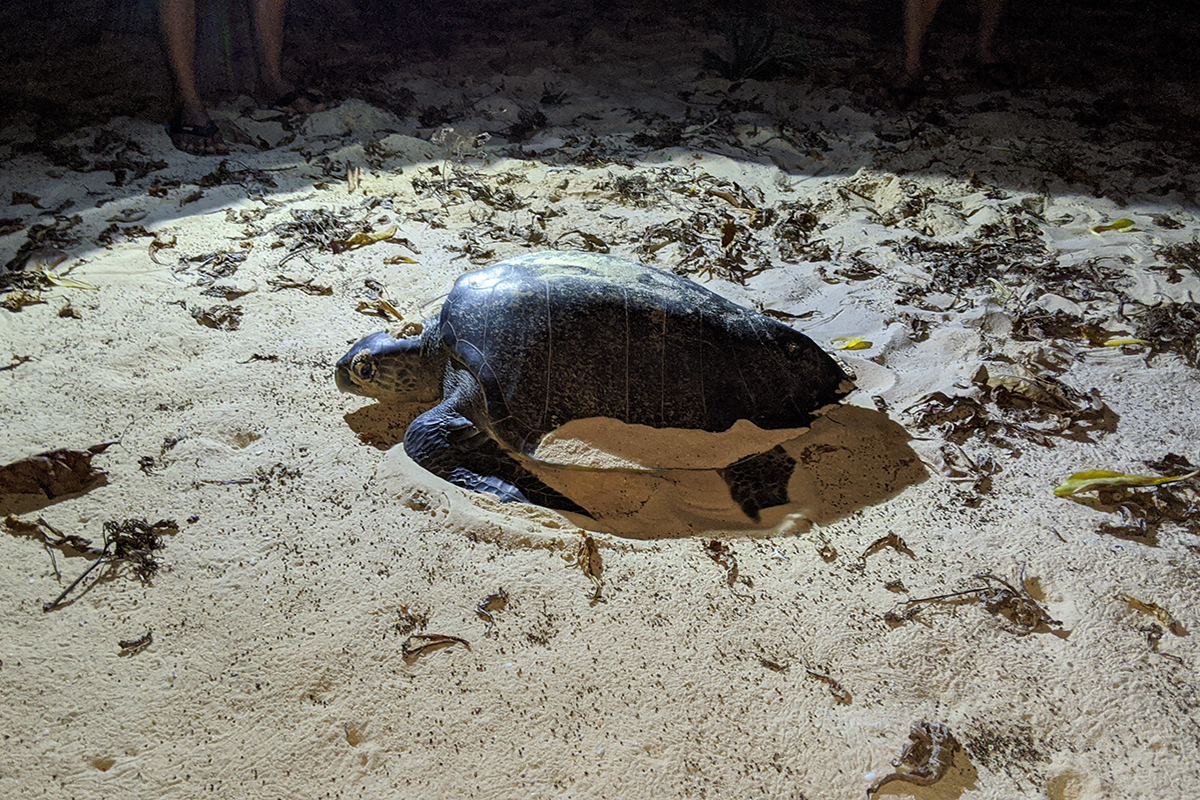 There is a great turtle conservation and hatching centre on Gili T. It is really worth a visit to get to know all about the island's sea turtle populations. You might even get the chance to release a tiny turtle hatchling into the sea! We have a great article on the sea turtles of the Gili Islands and the conservation efforts on the islands here: Saving a Sea Turtle Paradise: Eco-Tourism and Conservation on Gili Trawangan
With the complete absence of motorised vehicles and small population, Gili Trawangan is the ideal place to really feel at one with nature. As long as you remember to respect the environment while enjoying these activities, for example avoiding stepping on or damaging the coral reefs, and disposing of your waste responsibly, many generations will also get to experience the delicate ecosystem that makes Gili Trawangan so special.