Villa Almarik, one of the first resorts on the island, is located on GiliTrawangan's prime beachfront area. Everything is on your doorstep, a white sandy beach on the edge of a wide assemblage of beautiful blue coral and only a few minute walk from the island's central area, alive with small cafes and restaurants, enjoy the sweeping view of the mountains and turquoise sea while the sun sets and the sky lights up with a million stars. If you've been dreaming of white sandy beaches and crystal clear blue waters, look no further – you've found it. Welcome to Villa Almarik.
| FROM | TIME | BY |
| --- | --- | --- |
| International Airport (Lombok) | 2 hours + 15 minutes | Car + Boat |
| Town Center (GiliTrawangan) | 15 minutes | Walk |
| Bali (Padang Bai Harbor) | 90 minutes | Fast Boat |
Situated 54 kilometers to the east of Bali lies the Island of LOMBOK. Though relatively new to tourism Lombok is fast emerging as one of Indonesia's best kept secrets.
Gili Trawangan is the largest of the coral ringed Gili Islands, just off Lombok's Northwestern coastline. The islands are a diver's paradise while Lombok's rugged countryside and in particular the awesome Mount Rinjani or Tetebatu offer some fabulous trekking and beautiful scenery for the more adventurous.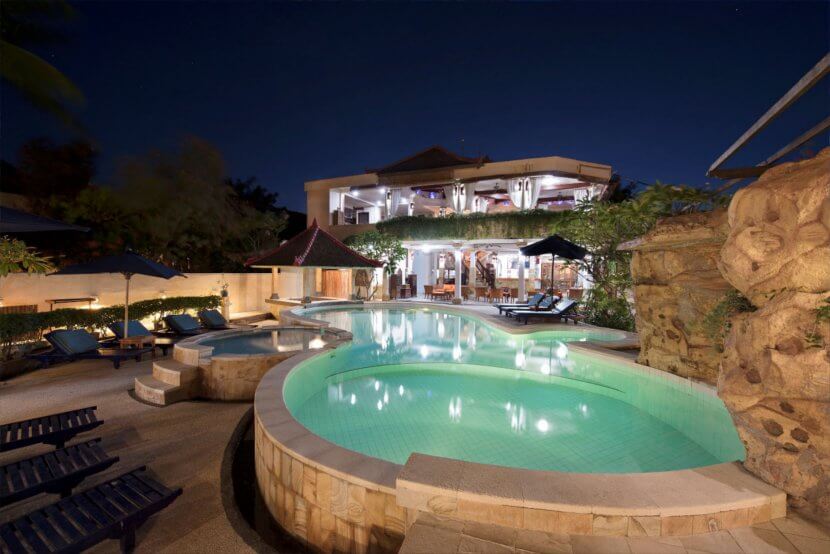 The azure gem of Villa Almarik lies under palm trees and provides a wonderful place to enjoy the sea-breeze as you soak in Villa Almarik's relaxing atmosphere.
A mix of Indonesian and Mediterranean dishes awaits you at our restaurant. All are prepared with fresh local produce and we're sure that you'll find the flavours of the island are as amazing as its views. Enjoy the beautiful sunsets as they light up Bali's Mount Agung volcano.
The Villa Almarik staff will do everything possible to ensure your stay is enjoyable and memorable.
We understand that the little touches matter.