Which is the Best Beach on Gili Trawangan for You?
The Gili Islands, just off northwest Lombok, are a group of 3 tropical coral fringed islands. They have a large backpacker scene, but are also perfect for couples, families and divers. Gili Trawangan is the largest, most populated and offers the most possibilities for tourists.
Many tourists visit Gili Trawangan for the palm-fringed beaches, and crystal blue water. But which beaches are the best on the island? Let us do a quick rundown so you have all the info you need.
North East
The beach in front of Villa Almarik is a short stroll from the main jetty where boats arrive from Bali and Lombok. This beach is generally quiet and there is plenty of space to relax. It is also the best beach for turtle spotting, so don't forget your snorkel gear, or rent some from a vendor on the beach.
There aren't as many vendors at this beach as some of the others, which makes it quieter. However, you can grab a delicious wood-fired pizza and cold beer from the restaurant at Villa Almarik for lunch.
North West – Sunset Beach
Sunset Beach is on the northwest side of Gili Trawangan and of course is famed for its sunset views. It does tend to get a little crowded around sunset time. But during the day is a lovely stretch of white sand.
There are a number of larger beachfront resorts here. Many of them have over-water swings that are very popular photo spots. If you want to get a great photo for your Instagram, you may have to wait your turn.
South West
On the southwest coast is a lovely strip of white sand sometimes referred to as Malibu Beach since a beach club opened there. This is round the coast from the buzzing main strip but also has plenty of places to relax, eat and drink.
It's a great beach for chilling during the day before strolling up to sunset beach to watch the view with a cold drink at the end of the day. From Villa Almarik it's nice to cycle here, which takes about 15 minutes.
South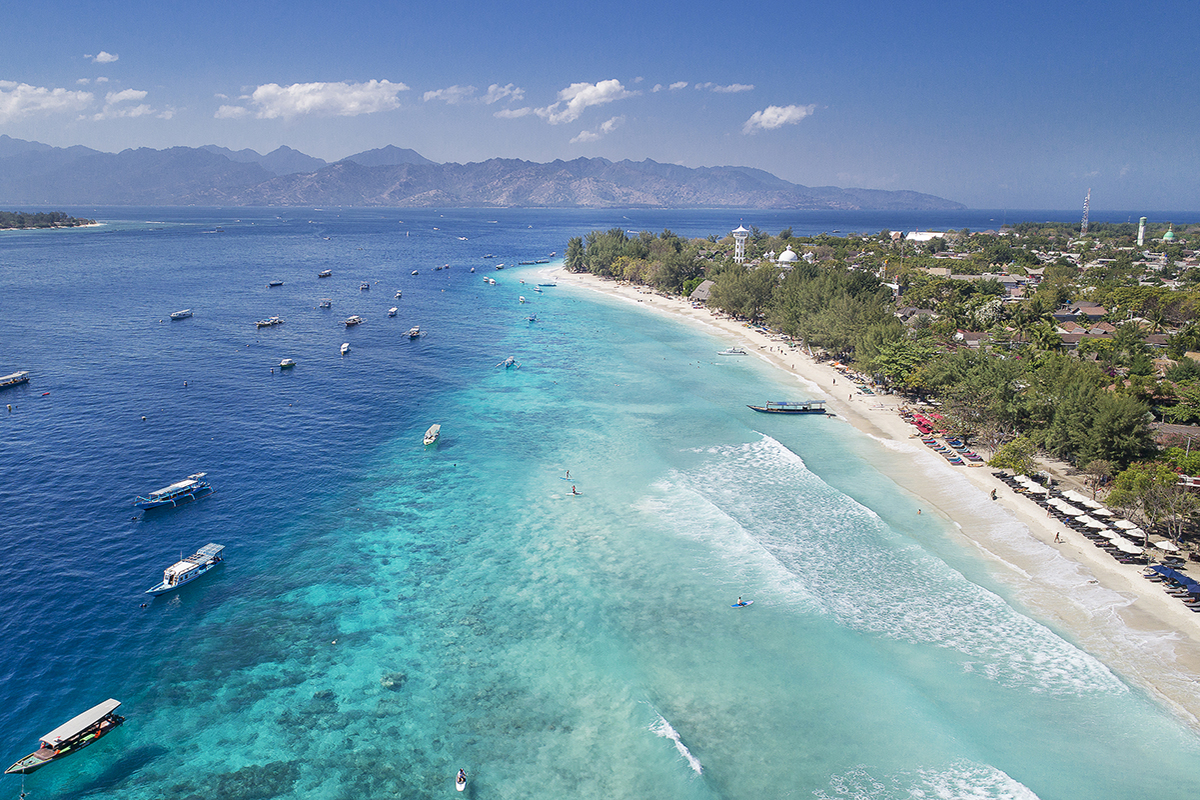 South of the jetty on the east side of the island is a strip of beach with lots of bars, restaurants and chairs on the beach. It's the social hub of Gili Trawangan, and where most of the party animals sunbathe off their hangovers.
It is a lovely beach though, and now the stalls and bars have been pushed back off the sand, there is even more room to chill. If you want to avoid other tourists, this isn't the beach for you. But if you want to chat to other travelers and maybe make some friends it's definitely the place.
Worth Mentioning – Gili Meno
Gili Trawangan has stunning beaches, but if you want a beach all to yourself you might have to hop on a boat to Gili Meno. This is an easy 10-minute boat ride from Gili T. You can arrange the trip at one of the kiosks in front of Villa Almarik.
Couples will love the romance of having a private beach, and parents can relax and let little ones splash with a clear view to keep an eye on them.
Which Gili Trawangan Beach is the One for You?
What kind of beach is for you? Do you like to sunbathe in silence or have some music and chatter at a beachside bar? Let us know in the comments below.