A Beginners Guide to Snorkelling Gili Trawangan
Snorkelling is one of the most rewarding experiences you can have in Gili Trawangan. The waters are beautifully clear and there is a huge variety of marine life to see. If you are a newbie to snorkelling, to Gili Trawangan, or both, we have made a handy Beginners Guide to Snorkelling in Gili Trawangan.
Preparing to snorkel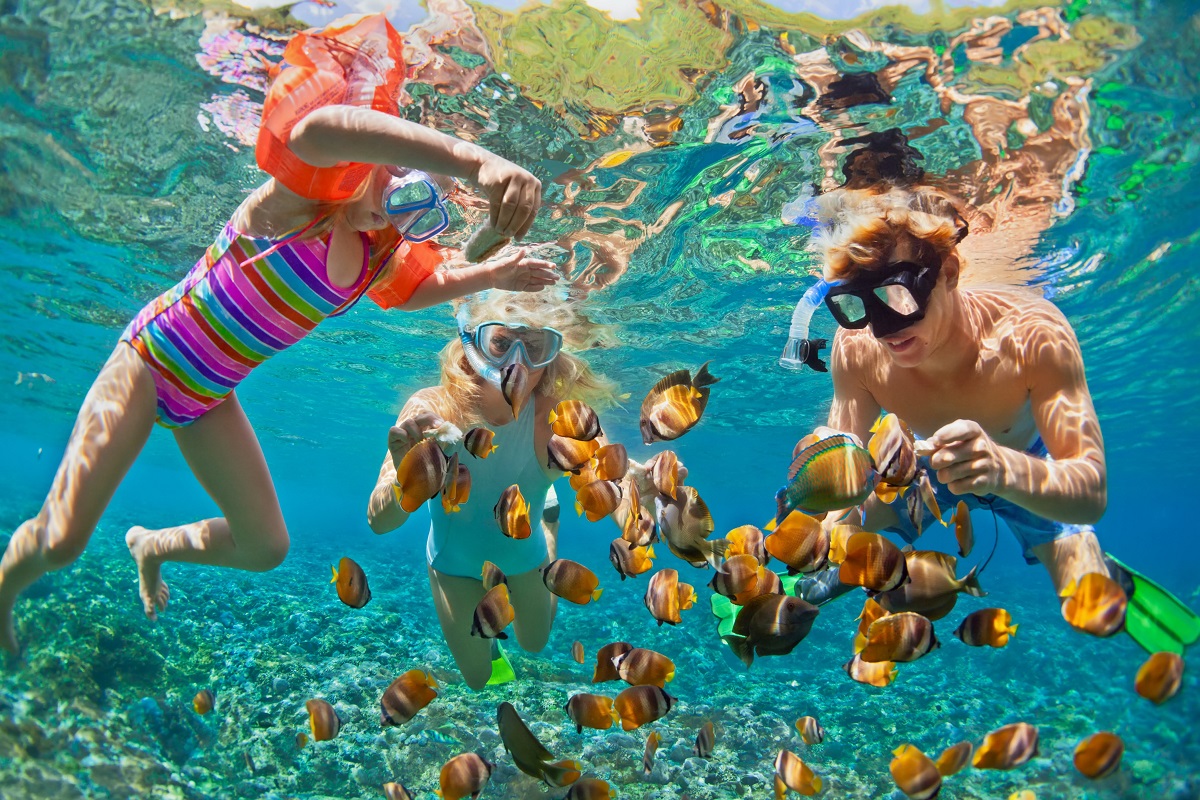 If you have never snorkelled before, it is a good idea to first get used to the mask, snorkel, and fins. You can rent what you need on the beach in Gili Trawangan and do a trial run in the pool at Villa Almarik. You may need to get used to breathing steadily and deeply through the snorkel. This helps to keep you calm and relaxed and conserve energy.
You should also get used to wearing fins as the motion is different to swimming barefoot. Your muscles may feel quite sore after a while so build up to spending long periods of time swimming in fins. If you push too hard, you may find that you get cramps in your legs and feet, which can be dangerous in open water.
Where to start
There are snorkelling spots all around Gili Trawangan, but one of the very best is right in front of Villa Almarik on the northwest side of the island. It is a very popular place for gathering sea turtles and makes for incredibly memorable snorkelling.
Further to the north towards the Halik dive sites there are some really beautiful snorkelling spots. The corals in this area are very healthy and brightly coloured and sea turtles are common at Turtle Point. The currents can be a little stronger around the north of the island so be aware, especially if you are new to snorkelling.
Finally, the south of the island around the biorocks is also a great place to snorkel. Although these are artificial reefs, they are a haven for colourful fish, turtles, and other marine life. The only minus to this area is that it can be busy with boats. It is very important to keep an eye and make sure to stay out of the way if you see a lot of boats around.
Other things to keep in mind
When you are just starting out with snorkelling there are a few safety rules to keep in mind. The very first one is to always go with a buddy. This is the best way to ensure someone knows where you are at all times and to help out if you get in trouble. Even if you just need a hand cleaning your mask or adjusting your fins, a buddy is there to support you.
Another thing is sun protection. You will need to either be covered with a rashguard or t-shirt or have some really good (reef safe) sunscreen. The UV levels in Indonesia are very high and you can burn very quickly. As cool as your body might feel in the water, you can still get badly burned, especially if you lose track of time while looking at all the beautiful underwater life. Your back and bum are especially vulnerable to getting burned while snorkelling.
If you want to go a bit further, there are boats over to Gili Meno and Gili Air for more world-class snorkelling sites, including Instafamous underwater sculpture The Nest Gili Meno. This is a fantastic site for taking dramatic photos.
Are you ready for your snorkelling trip to Gili Trawangan? Maybe you have been and want to share some of your tips for those that haven't experienced it yet. We'd love to hear from you in the comments box below!