Staying Sun Safe on Tropical Gili Trawangan
Gili Trawangan is a picture-perfect tropical island where the sun shines all year round. It might be tempting to spend every moment possible in the sun but the sun's rays so close to the equator can cause major damage. Have a read through our top 3 tips for staying sun safe on Gili Trawangan so you can enjoy the sun but avoid skin damage and other sun-related problems.
1. Avoid peak times
The sun is at its highest point in the sky and its hottest between 10am and 2pm. This is the time you will burn the fastest. It's best to avoid being in the sun completely at this time of day, but if you must be out, wear plenty of sunscreen, drink plenty of water, and wear a hat.
There are plenty of lovely shady spots on the beach to read a book or snooze if you still want to be outside during the middle of the day.
2. Wear sunscreen
This doesn't mean just when you're in direct sunlight. You should wear sunscreen throughout the whole day. Factor 30+ is a must in tropical climates and reapplying every hour or two is important, especially if you are sweating or swimming.
On another note, there are lots of reef safe sunscreens available now. Certain chemicals found in most commercial sunscreens are being found to damage reefs and marine wildlife. If you'd like to learn more about reef safe sunscreens read this article from our sister hotel Papua Paradise Eco Resort – How Reef Safe Sunscreens Can Save Marine Life
3. Wear Sunglasses
Sunglasses aren't just awesome accessories they also protect your eyes from the powerful rays of the sun.
In Europe and Australia there are 4 levels of UV protection ranging from 0-4. British approved sunglasses will have a CE stamped on them, usually inside one of the arms. As for sunglasses from other countries, the only way to be 100% sure they provide UV protection is to buy from a reliable optometrist, brand or certified website. You can also take your sunglasses to an optometrist for testing.
Be aware if you buy sunglasses in a country like Indonesia where fakes are plentiful, you will probably be buying lenses with little to no UV protection. It doesn't matter how dark the lenses are, if the UV protection isn't there you could end up with serious damage to your eyes.
What to do if you do get sunburnt?
If you do end up with sunburn you will need to take a little break from the sun. Drink plenty of water to stay hydrated and sit in a cool bath. Aloe gel or fresh aloe is very soothing for burnt skin. You can find this in the pharmacy or some mini marts on Gili Trawangan. At Villa Almarik's in-house spa you can even get a special cooling treatment for sunburn.
If you have severe sunburn with blisters, feel dizzy, nauseous, or faint, you should contact a doctor immediately. The staff at Villa Almarik can call a doctor from one of the island's local clinic for you.
Fun in the sun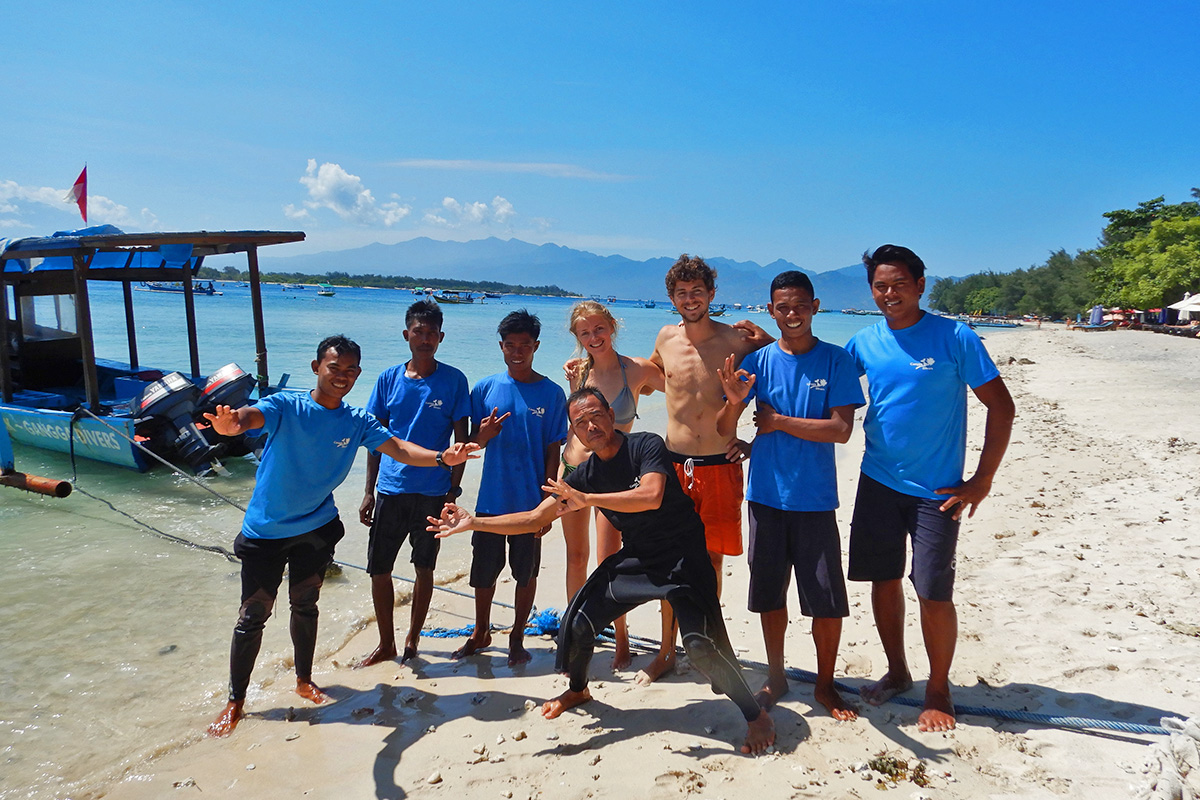 You should definitely enjoy the sun on Gili Trawangan but staying safe and healthy is the best way to make the most of your holiday. These tips apply whether you're sunbathing on the beach or you're out on a dive boat. Over exposure to the sun is dangerous in the short and long term so start taking precautions now.
How do you take care in the sun? We'd love to know if you have any other tips in the comments below.