Plan Ahead for Your Next Trip to Gili Trawangan
We may not be able to travel at the moment, but this shouldn't stop us from dreaming. Gili Trawangan will be the perfect location for a post-lockdown holiday for lots of reasons. Here are 5 to get you motivated to start planning your next Gili T trip.
1. Get back to nature
At this point many of us have only been self-isolating or quarantined for a few weeks. By the time we can travel again it may have been much longer. Many people don't have access to nature where they are live and will need to get back in touch with the natural world when confinement ends.
Gili Trawangan has beaches, coconut groves, wonderful shaded paths and warm tropical water. This is exactly what we will all need to refresh and revive our bodies and minds after such a tough period in time.
2. Lose yourself in seascapes
Diving is like a meditation for many people. You can totally lose yourself in the sights around you and the rhythm of your own breath. This could be just the thing to help relax a nervous system overloaded with worry or pent up energy.
Around Gili T there are so many beautiful dives and snorkeling sites to enjoy. Even right in front of Villa Almarik is some of the best snorkeling on the island. Glide alongside turtles and let the calm flow through you.
3. Top up your vitamin D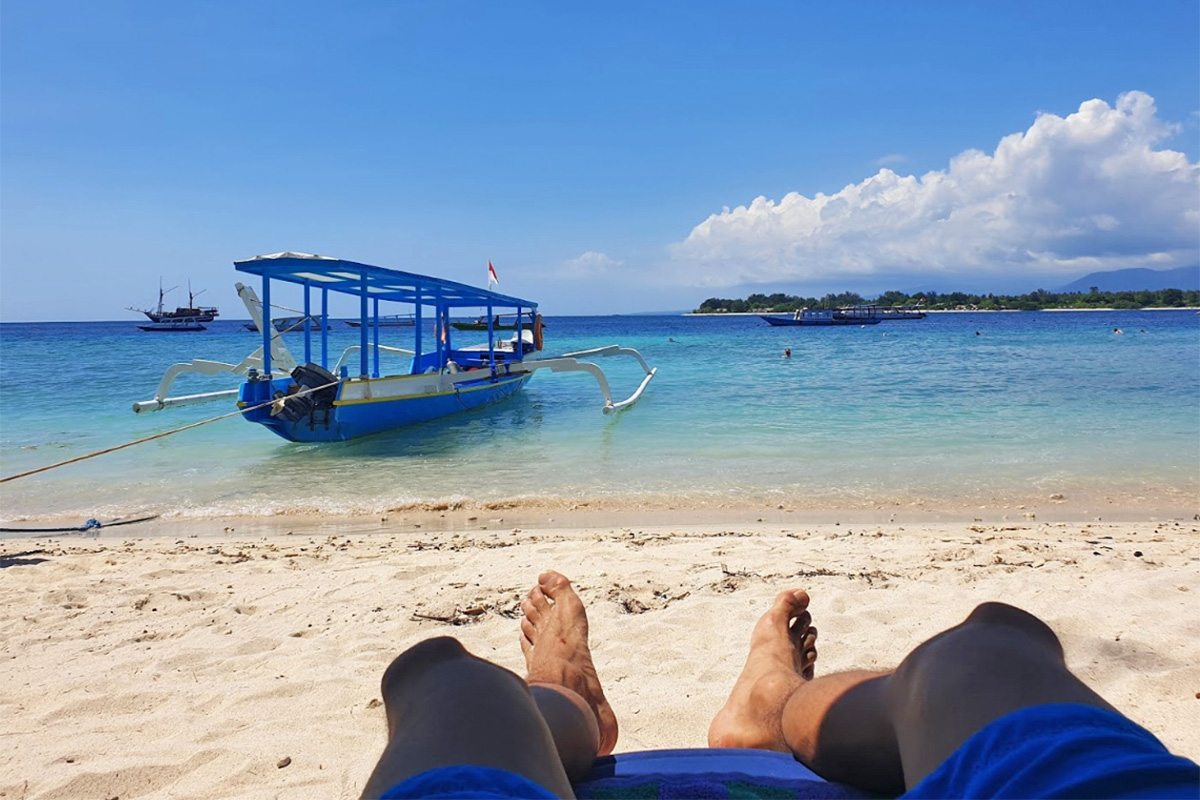 Vitamin D is important for the immune system, nervous system, brain, skin and bones. Luckily, there is no need to buy supplements as it is produced when ultraviolet rays from sunlight strike the skin and trigger vitamin D synthesis. The Gili Islands have plenty of sunshine, so you can soak up a bit of these healthful rays (with sunscreen on) and glow inside and out.
4. Help the local economy
The local residents of the Gili Islands and many in North Lombok are heavily reliant on tourism. The lack of tourists to the islands will be taking a huge toll on everyone from hotel staff, to shopkeepers, and everyone in between. By booking a holiday to Gili Trawangan when you are free to travel again will mean the world to business owners and their staff.
5. Get some exercise
Gili Trawangan has no motorized transportation, which means your legs are your means of getting around. You can safely walk or ride a bicycle around the island enjoying the island vibes as you go. After all the time we've spent stuck in the house recently we'll need to catch up on some leg stretching!
From Villa Almarik to the main Gili T strip is about a 15-minute walk so you can get a little exercise just strolling to the shops, restaurants, or bars. However, if you've had enough walking or riding, there is always a cidomo (traditional horse carriage) around to take you back to the hotel.
There are probably a many more reasons why you should be planning your next holiday to Gili Trawangan while you're in isolation. Enjoy some time daydreaming about how wonderful an island getaway will be.