10 Questions You Might Have About Gili Trawangan
Reading up on Gili Trawangan and the other Gili islands you'll probably have a few questions to ask about them. There are tons of articles out there about the islands, which means tons of contrasting information. We're going to try to make everything as clear as possible by answering 10 questions you might have about Gili Trawangan.
1. How do I get to Gili Trawangan?
Most travelers find the easiest way to reach Gili Trawangan is by fast boat from Bali. This takes between 1.5 and 2 hours depending on the weather conditions. To avoid the confusion of which fast boat company to choose, Villa Almarik will arrange transfers from Bali for Rp650.000 per person. This includes hotel pick up in Bali, drive to Padang Bai, fast boat, and Cidomo from the jetty to Villa Almarik.
You can also choose to fly to Lombok's international airport where Villa Almarik will arrange a driver to pick you up. It's about 2 hours drive to the pier where you will get a private boat over to Gili Trawangan in 15-20 minutes.
2. Are the fast boats safe?
There is a lot of worry over the safety of fast boats from Bali to the Gili Islands. There are many fast boat companies running multiple boats between Bali and the Gilis everyday. We won't say there has never been an incident on this route but for all the boats that run daily, the chances of anything happening are very, very slim. When you get on the boat, make sure there are good life vests for everyone and smaller ones if you're traveling with kids.
3. Is there an ATM on Gili Trawangan?
Yes, there are ATMs on Gili Trawangan. Villa Almarik take credit cards for payment within the resort and for Gangga Divers but if you plan to go out and do any shopping or eating and drinking you will need some cash. You can either bring cash with you and keep it in the safe in your room or use the ATMs on the island.
4. When are high & low seasons?
Gii Trawangan can be quite busy all year round but is at its busiest over Christmas and New Year, and July & August. There are also peak times during the Balinese Nyepi holiday (at the end of March with dates varying annually), and more recently for domestic tourists in the Idul Fitri holidays at the end of Ramadan. The quietest time of year is generally February and October-November.
5. Will people speak English?
Yes, people on Gili Trawangan are very used to foreigners and most speak English. You might actually be surprised at how fluent most people are. It's great to use a little Bahasa Indonesia but if you're just passing through Indonesia you'll do just fine with English.
6. What can I do on Gili T?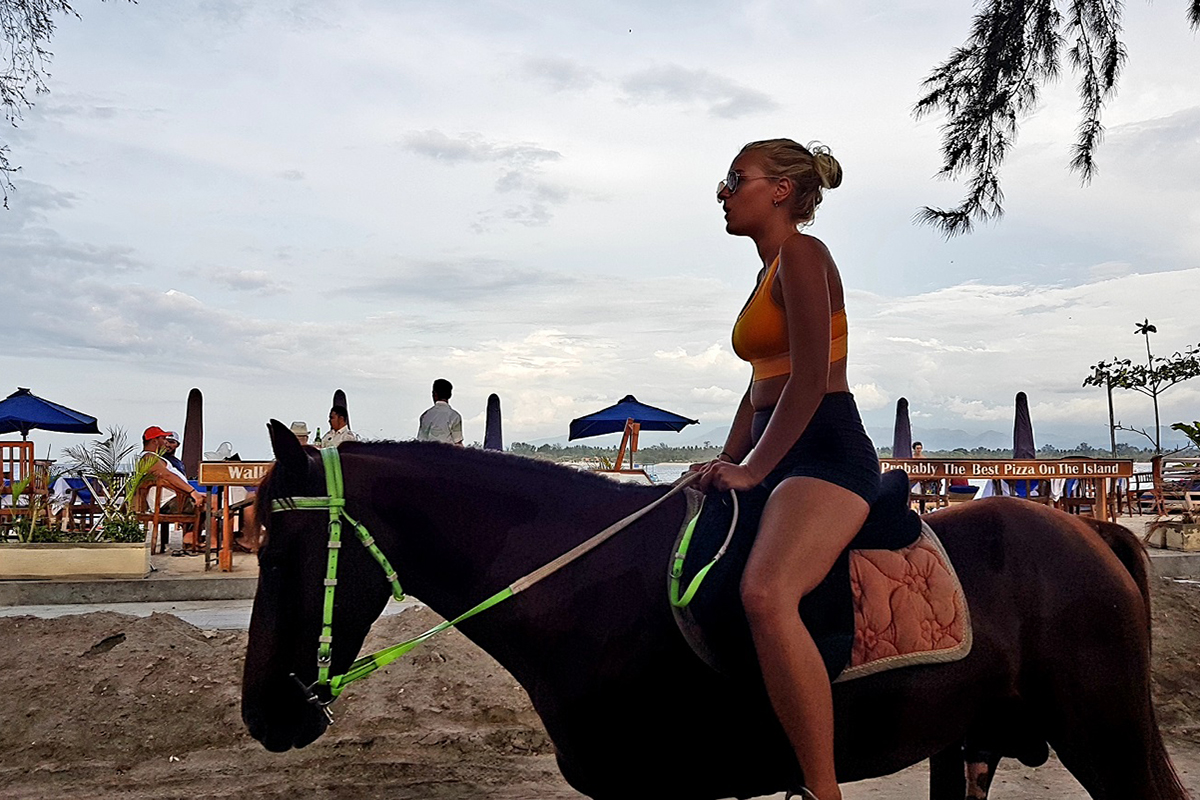 There are lots of things to do on Gili T. Relaxing on the beach is of course a popular pastime, but you can also snorkel, dive, walk, cycle, ride a horse and do some exploring. There are now yoga classes, stand up paddle rentals and plenty of places to eat, drink, dance and hang out. If you want to read more about what to do, read Gili Trawangan Activities You Don't Want to Miss
7. Is there a medical clinic on the island?
Yes, there are a few small medical clinics on Gili Trawangan. They are equipped to deal with cuts, scrapes, and basic travelers' illnesses but not for major emergencies. The closest international hospital is in Mataram on the Lombok mainland. For divers the nearest decompression chamber is also in Mataram.
8. How do I get around the island?
Gili Trawangan is a small island and is easily cycled around in about 45 minutes. There are no motorized vehicles so your choices for getting around are limited to cycling, walking or local horse-drawn cart called cidomo. The beachside paths are charming and you are sure to love not having any traffic noise around.
9. Where are the best places to go diving around Gili Trawangan?
Gili Trawangan is a divers' paradise with over 25 dive sites just minutes from the island. The furthest site from Gangga Divers is about 20 minutes by boat. This means less travel time to dives and more time to explore the island or chill on the beach. The best places to dive are relative to your dive skills. If you'd like to read about specific sites read 10 Amazing Dive Sites Around Gili Trawangan You Need to See.
10. Is there malaria or dengue on Gili Trawangan?
There is no malaria on Gili Trawangan. There have been conflicting articles about this, but it seems that the confusion came from Gili T being classed as a rural area of Lombok. There may be a risk in rural areas of the Lombok mainland, but not on Gili T. Dengue fever however, is a possible risk just about anywhere in Indonesia. Dengue mosquitos are active in the daytime so we suggest using mosquito repellant during the day as well as evening time when mosquitos usually bite most.
Hopefully this clarifies some of the questions you might have about traveling to Gili Trawangan. If you have any other questions don't hesitate to ask us in the comments box below.