Planning the Perfect Honeymoon on Gili Trawangan
Your honeymoon is a very special time to be alone together blissfully relaxing after the stress of planning your wedding. Bali is often said to be a honeymooners paradise but Gili Trawangan is the place to go if you really want to get away together. What's so romantic about Gili T? Let us tell you all about it…
Staying on Gili Trawangan
If you're on your honeymoon you'll want to stay somewhere that you can have privacy and quiet. You probably don't want to hear single 20-somethings partying into the wee hours of the morning. This rules out plenty of hotels and guest houses on the main Gili T strip, but Villa Almarik is perfectly situated just a short stroll away from this area to the north.
Being able to step away from the busy area into your own villa is ideal for most honeymooners. You'll also be able to watch the stars from the beach and enjoy the sounds of the waves.
Getting Romantic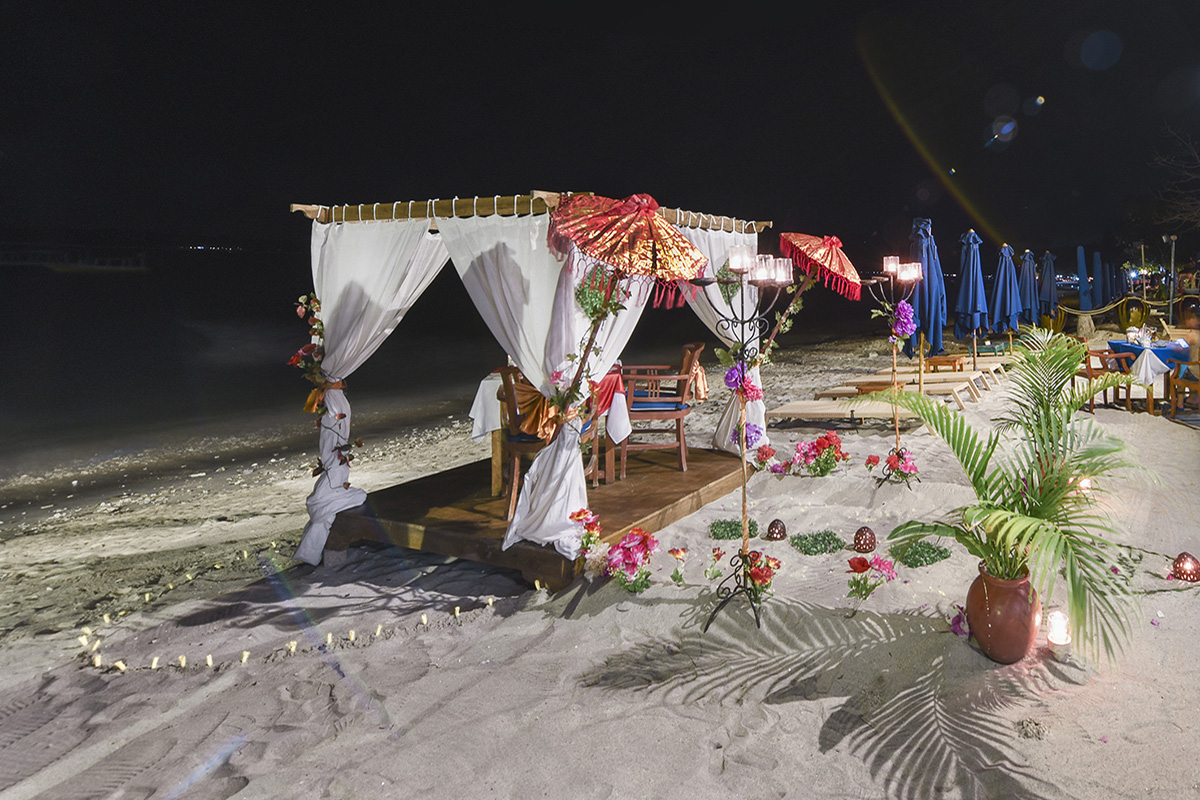 Your honeymoon is a chance to do all the romantic things you don't usually have time for so make the most of it! Gili Trawangan offers so many opportunities for romance it's hard to know where to start.
Maybe you've always dreamed of having a romantic dinner on the beach. Villa Almarik can make this happen for you in a beautiful canopied set up right by the water. Candlelight, flowers and flowing drapes make this a picture-perfect Honeymoon moment you'll never forget.
How about watching a stunning sunset together from the beach? This is one of the favorite pass times on Gili T because you can always count on the sky to turn shades of pink and purple as the sun sets over the water.
I'm sure you've seen pictures of couples getting massages side by side. You could do this every day of your honeymoon on Gili Trawangan. You'll feel totally relaxed and completely pampered after a spa treatment at Villa Almarik's in-house spa.
Active couples will also love riding bicycles around the island and maybe taking a walk to see the view from Gili Trawangan Hill. It only takes around 45 minutes to ride around the whole of Gili T but you can stop for a swim or to relax on a quiet piece of beach on your way round.
Snorkeling together is another way of bonding while you're on your honeymoon. Seeing incredible sites like the giant sea turtles that live in the waters around the island will be a memory you can share forever.
Getting married or renewing your vows on Gili T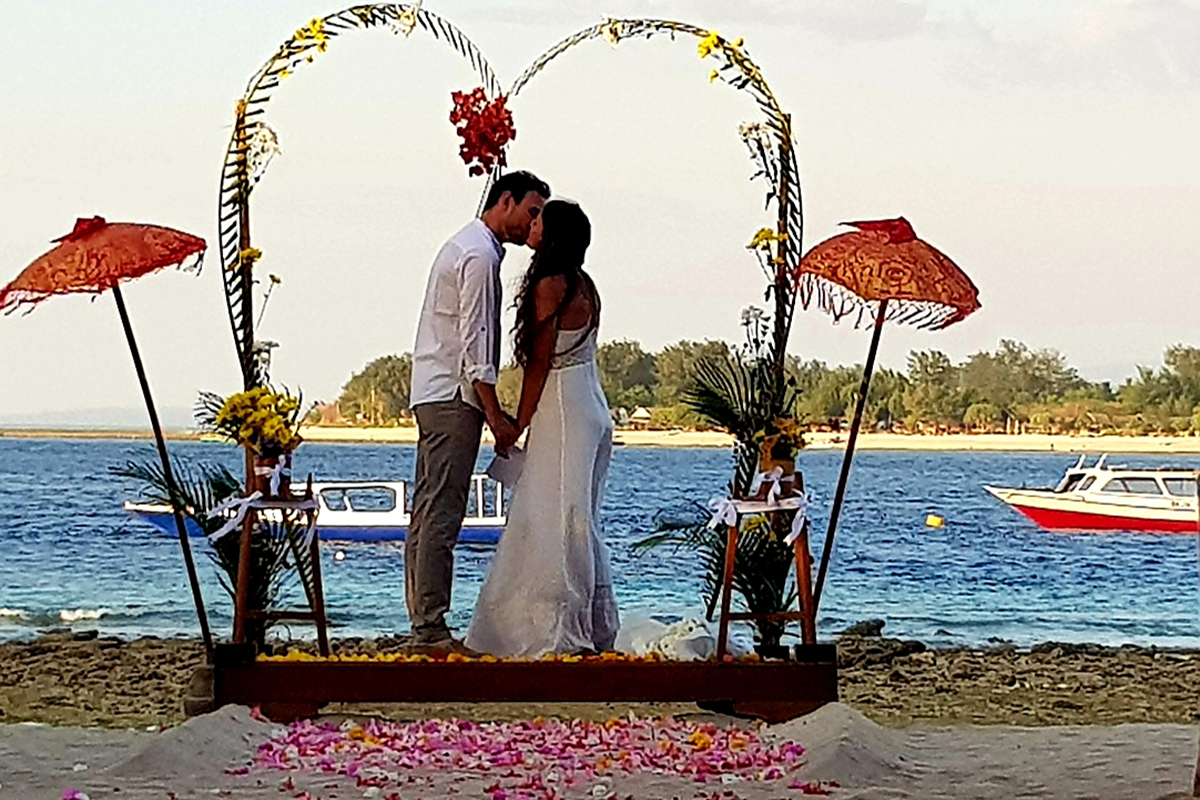 It's not only honeymooners that will love Gili Trawangan, you can even get married or renew your vows on the island. If you are looking for a simple, yet elegant paradise island location, you can't do much better than Gili T.
The soft white sand and gentle crystal blue water makes the perfect backdrop for a beach wedding or vow renewal ceremony. Add in tropical flowers for decoration and your bouquet and you will look back at photos and remember the scent of the sea and sweet blooms.
Are you ready to tie the knot and plan your Gili Trawangan honeymoon?
If you're thinking about booking your honeymoon, or are still just gathering ideas for the future, Gili T might just be the perfect place for you to start this new stage of your life together. You can ask us about Villa Almarik's honeymoon or vow services, or just about things to do as a couple on Gili T in the comments below. We love to hear about your love!