Getting Around Gili Trawangan
Gili Trawangan is a small island off of Lombok measuring around 3km long and 2km wide. Its dreamy coastline is fringed by beautiful white sand beaches and swaying palm trees. There are no motorized vehicles on the island, which means alternative transportation is necessary to get from one place to another on the island. Here are the 3 options for getting around Gili Trawangan.
On foot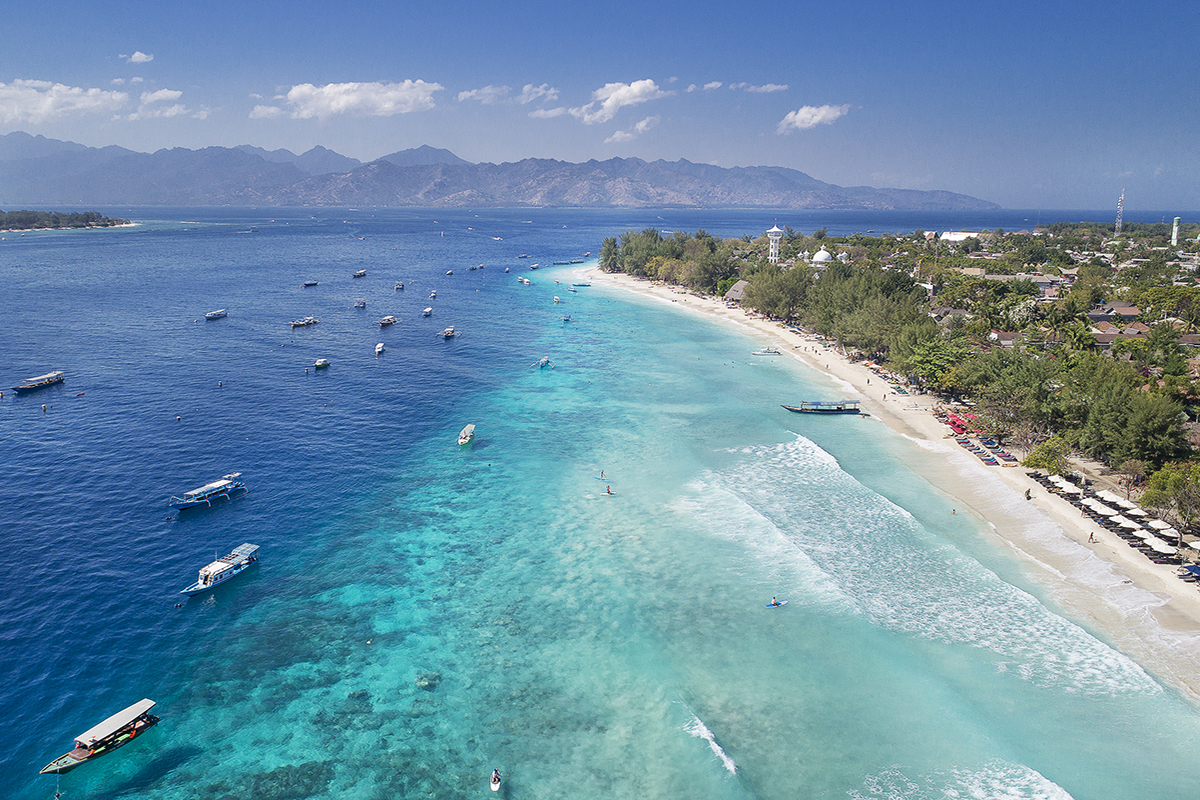 A coastal path runs all the way around the island with other small cobbled streets running through the main tourist strip. Walking is an easy way to get around the island and from Villa Almarik to the main street is only about 15 minutes.
In fact one of the nicest things to do on Gili Trawangan is to walk the whole coast of the island. It only takes about 2 hours and you will see the beaches, palm groves, and village. How many people can say they have walked around the whole of a tropical island?
If you really like walking or just want a view of the whole island, take a walk up Gili Trawangan Hill. This gives you a birds-eye-view of the island and all the way over to Lombok and even Bali.
Bicycle
Most people's choice of transport on Gili T is to rent a bicycle. Without cars or motorbikes on the road it is the ideal place to cycle around comfortably. It's also cheap, the island is mainly flat, and it feels great to have the breeze in your hair as you ride along the sandy paths.
From Villa Almarik it's a beautiful ride north to the quieter areas of the island where you could have a beach all to yourself. You can also pop down to the local shop a couple of minutes away or five minutes to the south is the busier main Gili T strip.
One thing to be aware of is that the roads and paths can be bumpy and often sandy so be aware when riding around the island. Thankfully, any falls or slips are generally at a lazy pace and padded by sand so there isn't much to worry about.
Cidomo
Gili T is famous for its cidomo or horse-drawn carts. They are used both by locals to carry goods and also to transport tourists and their luggage around the island. If you are coming to Villa Almarik with a suitcase, you will need a cidomo to trot you up the road in comfort.
Over the years Cidomo drivers have got a lot of bad press about the conditions of their horses. However, thanks to non-profit organizations like Horses of Gili and better awareness of animal rights issues, the horses seem to be much better cared for now than they used to be. Try to find a driver that has water for their horse and lets the horse rest in the shade.
The lack of motorized vehicles on Gili Trawangan is one of its many charms. There are few places in the world where you can completely escape road noises, so relish it while you are on the island. Have you been to Gili Trawangan and have a favorite way to get around? Share with others that haven't been to Gili T by leaving a comment in the box below.