Book Villa Almarik Gili Trawangan with Confidence with Our New Booking Policies
Over the past few months many of us have had to scramble to cancel holidays. This has meant trying to reschedule or ask for refunds, taking time, and in many cases, a lot of patience. This has driven change in the way we are now taking bookings at Villa Almarik. We want you to be able to look forward to a trip to Villa Almarik on beautiful Gili Trawangan without the worry of financial loss. Read on to find out how you can book with confidence now and enjoy your stay later.
Payment Policy
When you book a stay at Villa Almarik you will have 20 days from the day you book in which to pay a 25% deposit. Once this payment is made, your stay will be confirmed. Your next payment of the remaining balance does not have to be paid until at least 15 days prior to your arrival date. This gives you plenty of breathing space to make sure your trip can go ahead and all your travel connections are possible.
We have also put in place further measures in the case of a pandemic. If a travel ban is in place due to a pandemic, your deposit payment will be postponed until the travel restrictions are lifted.
Cancellation Policy
In the unfortunate case that you need to cancel your trip completely, you will have until 7 days before your stay to cancel. In this case, you will not be charged for cancellation. If you must cancel on short notice, within 6 days of your stay up until 24 hours before, you will be charged for 1 night. With less than 24 hours notice, you will be charged for the full length of your stay.
To ensure you will not lose your hard-earned money if a travel ban is in place due to pandemic related travel restrictions you will be able to reschedule your booking within 12 months from your original booking date – subject to availability. If, by the end of the 12 months, you have not been able to use your booking, you will receive a full refund.
Health & Hygiene at Villa Almarik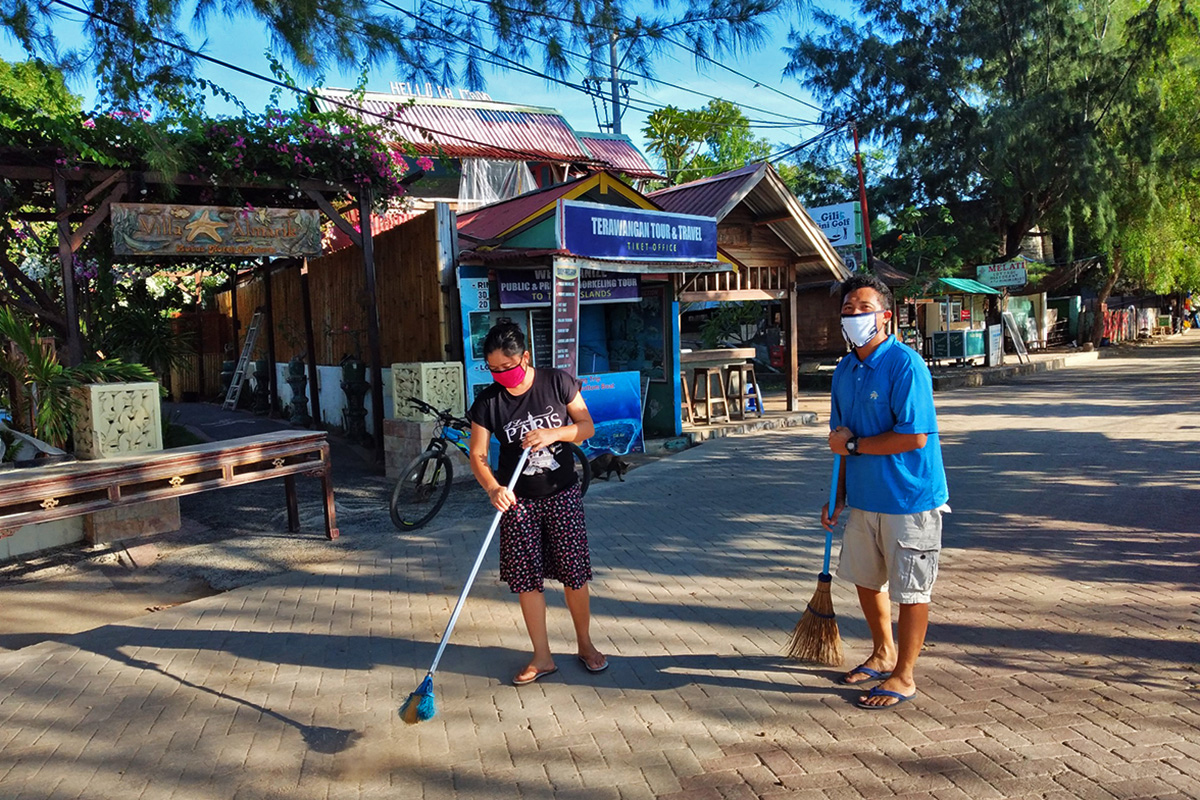 During the past few months with no guests, Villa Almarik staff has been keeping the hotel clean and ready for guests as soon as Indonesia's borders open again for tourists. Working with the local community and the Gili Hotels Association, we have had time to learn new protocols and also help clean around the island as well.
New health and hygiene policies are now in place at the hotel. Staff members have temperature checks regularly and are required to wash their hands often while they are working. When guests do return, they will be washing all linens at high temperature, enforcing mask wearing in public areas, and making sure there are hand sanitizer stations around the property. The floors will also be marked out for social distancing.
We are hoping that we can welcome guests back to Villa Almarik in the near future. With the preparation of new health and hygiene protocol and our new booking and cancellation policies you can rest assured that you and your booking are safe with us.
It's actually a great time to make a booking for your next trip to Gili Trawangan. You can enjoy special promotions and you are completely covered so don't have to worry about losing money. Make sure you have something to look forward to when Covid-19 travel restrictions are lifted!
How do you feel about booking travel now? Does it make you feel more confident to book to have these new policies in place? Leave us a comment to let us know in the box below.