5 Reasons Why Gili Trawangan is the Perfect Couples Holiday Destination
Looking for the ideal place to take a holiday with your other half? You can stop searching because Gili Trawangan has it all when it comes to serving up romance. No matter what stage your relationship is at, weather you've been married for years or are still getting to know each other, Gili T has something for you. Here are 5 reasons why Gili Trawangan is the perfect couples holiday destination.
1. The Quiet
Gili T may be known for its party scene but in fact there are very quiet parts of the island too. Villa Almarik is perfectly located for spending quiet time together. This sleepier part of the island just north of the bustling main strip is quiet at night and even more tranquil in the morning. You might not want to get out of your comfy bed, but strolls along the beach in before other tourists are up and about will make you feel like you have the island all to yourselves.
2. The Sunsets
Isn't there something intrinsically romantic about sunset? Now think about sunset on a tropical island with a warm breeze and the smell of the sea and you have the perfect recipe for romance.
The sunsets in Gili Trawangan are epic and no matter how many days you stay, you'll never get tired of watching the sun sink behind the horizon. If you're an adventurous couple you might want to walk up Gili Trawangan Hill where the panoramic views are even more spectacular than the beach. There are also less people around so you can have this special time all to yourselves.
3. Things to Do Together
Active couples will appreciate that there are loads of things to do on Gili Trawangan. Divers can experience the incredible underwater life together. And if you don't dive yet, you could take the plunge together and get PADI Certified with Gangga Divers.
Go for bicycle rides along the beachside paths, snorkel with sea turtles, sunbathe, go horse riding, or stand up paddle. You can also go out dancing, visit the night market, or enjoy live music at a local bar. There are endless opportunities to make memories together.
Less active couples will just enjoy the laid-back vibe and opportunity to do nothing together.
4. Romantic Dinners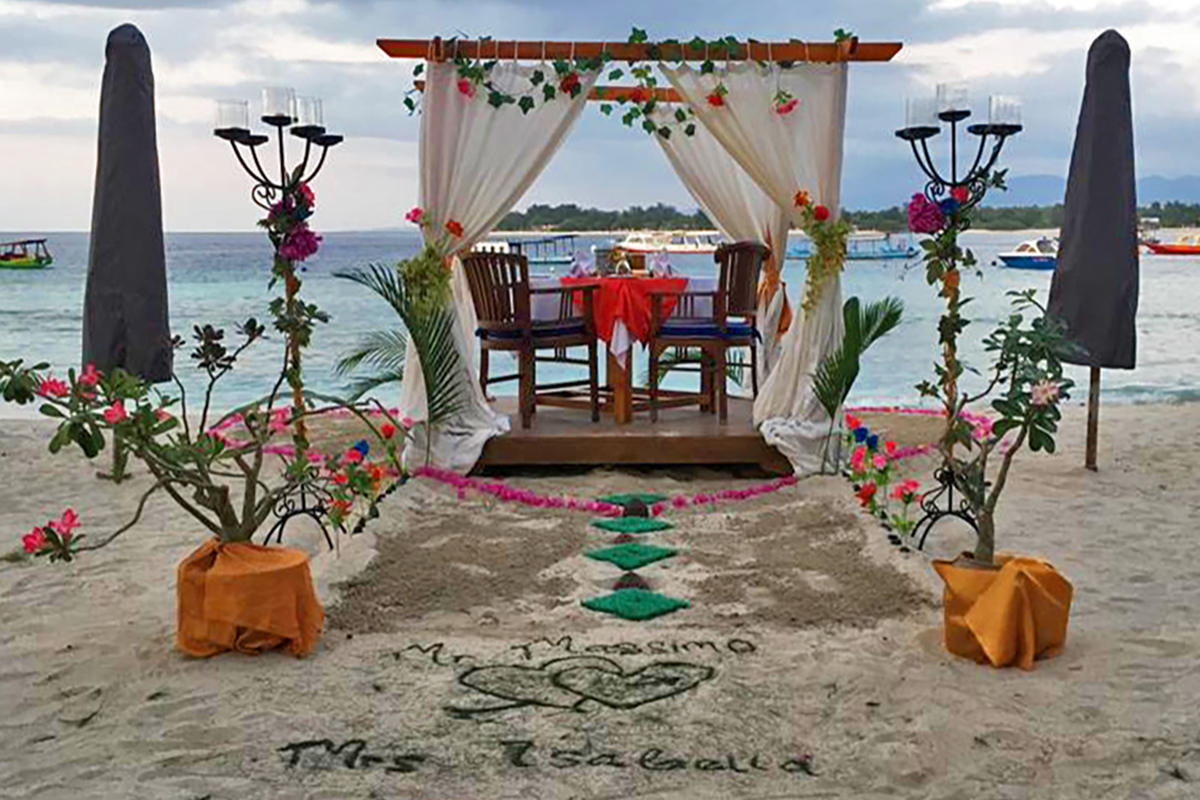 You know all those Instagram photos of couples having romantic dinners on a beautiful white sand beach somewhere? That could be you on Gili Trawangan. All you have to do is arrange a candlelit beachfront dinner when you stay at Villa Almarik. Everything from flowers to wine will be set up for you. You can just get dressed up, stroll down to the beach, and enjoy an excellent meal together.
5. Spa Time
Most couples don't have the time or money in their everyday lives to really spoil themselves. Luckily, it's the easiest thing in the world when you're on Gili T. Flower petal baths, couples massages with fragrant tropical oils, and relaxing beauty treatments are so reasonably priced, you can book one every day! Villa Almarik's in-house spa has lots of treatments to choose from and you don't even need to leave the hotel to be completely spoiled.
These are just 5 reasons why Gili Trawangan is perfect for a couples getaway, but there are plenty more! Maybe it's time for you to book so you can find out all the other ways to get romantic on Gili T. What's the most romantic thing you can think of on a couple's holiday? We'd love to hear about it in the comments below.